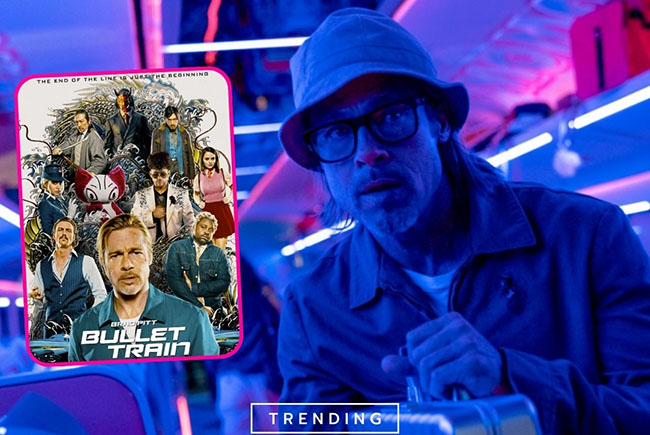 Just get off the train. Easy, right?
The second trailer for action-thriller movie Bullet Train starring Brad Pitt has dropped, and the movie is looking even more amazing!
This new trailer gives us some back story about Pitt's character, and the handler he talks to on the phone is revealed to be none other than Sandra Bullock.
Pitt plays an unlucky assassin called Ladybug determined to do his job peacefully after one too many gigs gone off the rails. His first job back is meant to be simple - retrieve a briefcase from a train and then get off the train - but fate has other plans.
The mission puts Ladybug on a collision course with five lethal adversaries from around the globe – all with connected, yet conflicting, objectives.
And it all takes place on the world's fastest train, making the whole movie a wild, non-stop thrill ride through modern-day Japan.
The movie was made at the height of the pandemic and also stars Joey King, Aaron Taylor-Johnson, Brian Tyree Henry, Andrew Koji, Hiroyuki Sanada, Michael Shannon and Benito A Martínez Ocasio.
As the trailer shows, there's some great deadpan humour from Pitt thanks to direction from David Leitch of Deadpool 2 fame.
Leitch has been Pitt's stunt double for previous movies, but apparently Pitt did 95% of his own stunts for Bullet Train.
困り顔しかない🤣好きっ❤#BradPitt#bullettrainmovie pic.twitter.com/Foh4V2biy5

— ふゆ (@fuyu_33) June 7, 2022
If this is the energy fate is bringing, I'm not sure I want to meet him. pic.twitter.com/B4yT89saVs

— Bullet Train (@BulletTrain) March 13, 2022
This thing is everywhere… people are obsessed. I think it's name is Momomon? pic.twitter.com/lqaxg52uRM

— Bullet Train (@BulletTrain) March 14, 2022
The movie is based on the book Maria Beetle by Kotaro Isaka, so get in quick if you like reading the book before seeing it interpreted on the big screen.
Bullet Train lands in cinemas from August 4, 2022.
Main image: Sony Pictures